14
Aug
2017
Comments Off

on Discover the Magic – Box named a leader in new Gartner Magic Quadrant for Content Collaboration Platforms
As a Box Reseller, CBA is excited to announce that Gartner has named Box a leader in the new Content Collaboration Platforms Magic Quadrant (MQ) report. Gartner Magic Quadrants evaluate vendors within a particular market segment based on their completeness of vision and their ability to execute on that vision. Box was evaluated among 14 vendors in the market and was recognized as a leader in the strength of its vision for managing content.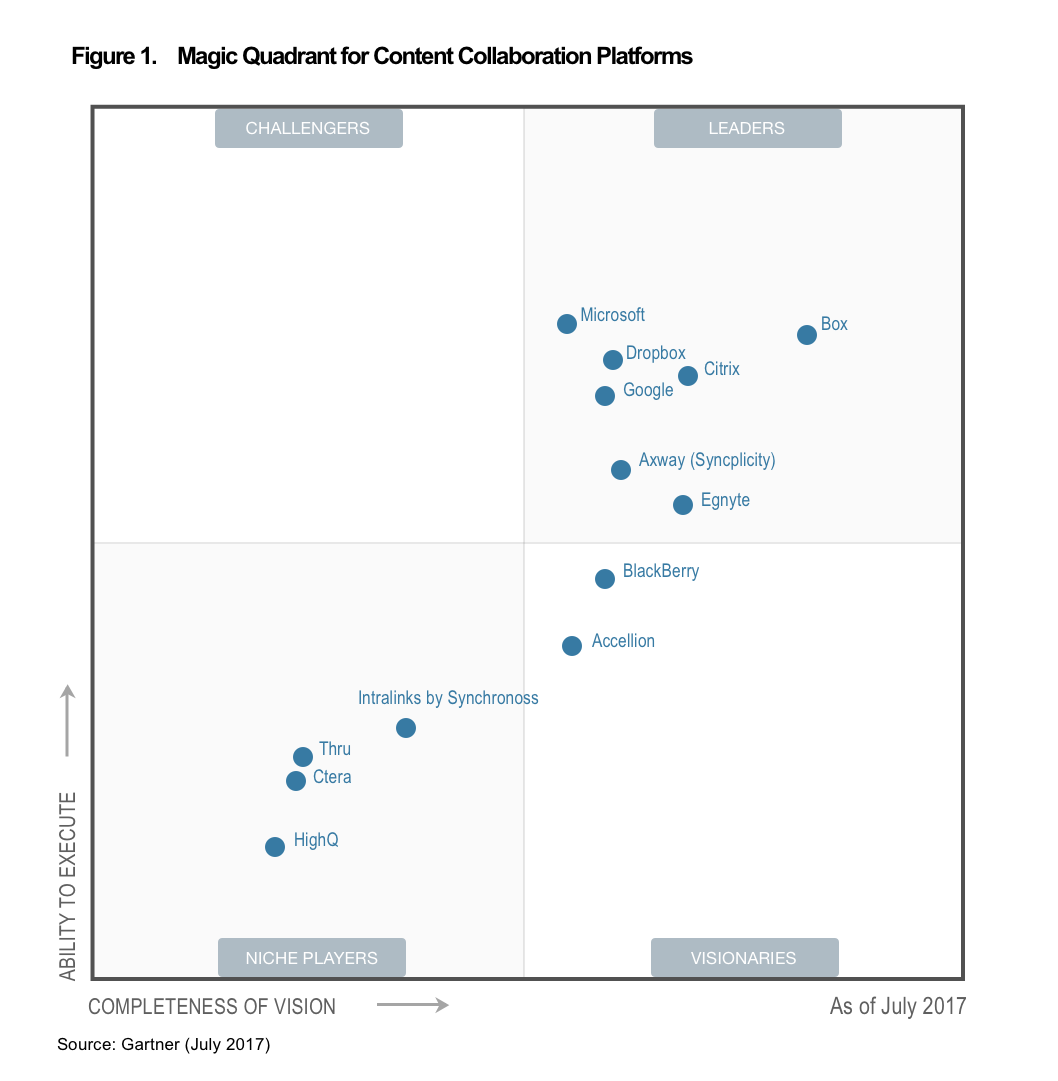 The Content Collaboration Platforms MQ has evolved out of the Enterprise File Sync and Share (EFSS) MQ, which Box has been a leader in for the past 3 years.
Gartner evaluates Content Collaboration Platforms on numerous points. In particular, Box has consistently been recognized for usability, mobile enablement, internal and external collaboration, and blending those with security, data protection and integrations.
CBA has been been a Box partner for years and glad to see the product we've known to be best in class is finally getting recognized by Gartner. For more information on Box please visit our website. You can also view the full article by Joely Urton on Box' blog.
read more
21
Aug
2013
Comments Off

on Out of the BOX
The risk of data loss to sources outside of the company's walls is a huge concern to executives and IT professionals alike.  Controlling security is a full time job in and of itself.  Firewalls, spam filters, open ports, closed ports so many things to be concerned with.
But what about documents that must be shared with customers and partners outside of your corporate walls?   What about the burden of large confidential documents being sent via unsecured email as attachments – not only from an upload/download and storage perspective, but what about from a security perspective?!
Good news!! Now you can safely share documents and save your IT team from pulling their hair out because they can't keep up with all of the demands put on them.  CBA, Inc. offers a secure, cloud based solution to share and collaborate on documents internally or externally.  Concerned about attachment send/receive limits??  No worries there either – they are sent as a link to the document rather than sending an actual document.  How cool is that?  Oh, and with an enterprise package, the sky's the limit for storage space!!
Best of all, you can control who sees what, manage who opens what and you can integrate it with other applications – out of the BOX!!
Our partner company is growing extremely fast and their solution is being used by some pretty impressive companies on an enterprise and global level. Additionally impressive is that the price points make it attractive and accessible to all size organizations!
Just ask us!  We are a "Choice Re-seller" Partner of  BOX and we have already been doing installations for our customers who recognize a great thing when we show it to them!!
Call me and I can show you how to give your executives and IT professionals a good night's sleep by protecting your documents while improving corporate collaboration – safely!
Donna McLean
Account Executive
CBA, Inc.
dmclean@cbainc.com
567-202-9280
read more