6
Apr
2012
Comments Off

on Graneda Dynamic: Making Oracle Primavera Graphics Even Better
Graneda Dynamic: Making Oracle Primavera Graphics Even Better
Graneda Dynamic has been the leading Project Management Graphics tool for more than 25 years.  Now Graneda Dynamic supports the Oracle Primavera P6 product.  With the ability to view Network Diagrams, Gantt Charts and Work Breakdown/Organizations Breakdown Diagrams, Graneda Dynamic is an essential tool for all organizations using Oracle Primavera.
Network Diagram
The Graneda Dynamic network diagrams are Best in Class because of their optimized node arrangement and minimum crossing of relationships.  Grouping of activities by time orientation is also a key feature that is found in very few Project Management graphics products.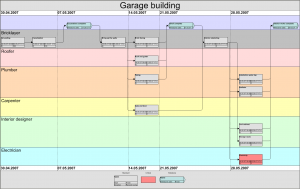 Gantt Chart
Although the Primavera P6 Gantt Chart is an excellent tool, the Graneda Gantt Chart is a step above.  Some key features give you the ability to split the timescale into sections of varying detail.  You have complete control of the bar shapes, colors and styles.  In addition each activity can be displayed differently based on the data.  When you want to display a lot of data, Graneda allows for stacked columns in the activity table area, giving you the maximum space for your bar chart.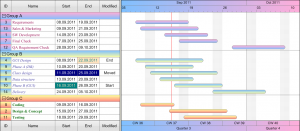 Work Breakdown Diagram
Activity lists are transformed into smartly organized graphical overviews.  You can easily see the structure of your project at a glance.  In the work breakdown diagram, sub-activities are structured and displayed hierarchically.